---
Chris Brown, Undecided to do something?
Written by IvanS on 09/01/2019
Chris Brown has come out these days with a new track: Undecided.
We wondered what Chris is undecided about, maybe for the title of the song? Or whether to produce a song a week or twice a week. Of course, Chris Brown's creativity seems to be inexhaustible. Just as his desire to get into trouble with justice seems to be inexhaustible (the news of Chris risking prison and a fine for having possessed a Capuchin monkey is quite recent). But we all consider him a good guy, a good singer, a fantasist dancer and a personality completely out of the norm.
In this photo, however, 'we have caught up while doing the "dead hand" with a girl not even known on a bench!
Undecided By Chris Brown is entered on V2BEAT TV Rotation this week, tune in!
Ivano Spada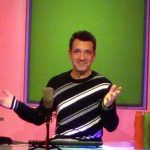 ---