BECOME A SUPPORTER BY V2BEAT MUSIC TV
DONATE ANY AMOUNT NOW! in Just 5 seconds 
Why donate?
Because we are Ads free: no advertising are inserted during the videoclips
Because we are passionate volunteers MUSIC lovers: we search and promote the best talented artists proposing you for free.
Because we think that Music and videos are the best way to entertain people from their born till end of life
Because we work hard daily to maintain the costs of the structure and no rewards coming from others.
         FOR THAT WE NEED YOUR DONATION IN ORDER TO PROCEED WITH OUR ACTIVITY TO GIVE YOU ENJOYMENT!
Here the supporters that greatly considered the importance to sustain V2BEAT
Thanks for DONATION to:
Donation Details
| | |
| --- | --- |
| Total amount: | €100,00 EUR |
| Currency: | Euros |
| Confirmation number: | 62Y82594EB479971N |
| Quantity: | 1 |
| Purpose: | V2BEAT |
| Contributor: | SUSANNA |
| Message: | Sempre avanti! 🤗 Susy e Max |
Donation Details
| | |
| --- | --- |
| Total amount: | €10,00 EUR |
| Currency: | Euros |
| Confirmation number: | 26M27723K6247951N |
| Quantity: | 1 |
| Purpose: | V2BEAT |
| Contributor: | Giovanni |
| Message: | Forza Dany non mollate siete grandi !!! |
Donation Details
| | |
| --- | --- |
| Total amount: | €10,00 EUR |
| Currency: | Euros |
| Confirmation number: | 6US32836NX058751E |
| Quantity: | 1 |
| Purpose: | V2BEAT |
| Contributor: | Raffaele |
| | |
| --- | --- |
| Total amount: | €10.00 EUR |
| Currency: | Euros |
| Confirmation number: | 7SV046229W0884521 |
| Quantity: | 1 |
| Purpose: | V2BEAT |
| Contributor: | Benni |
WHAT ABOUT YOU?…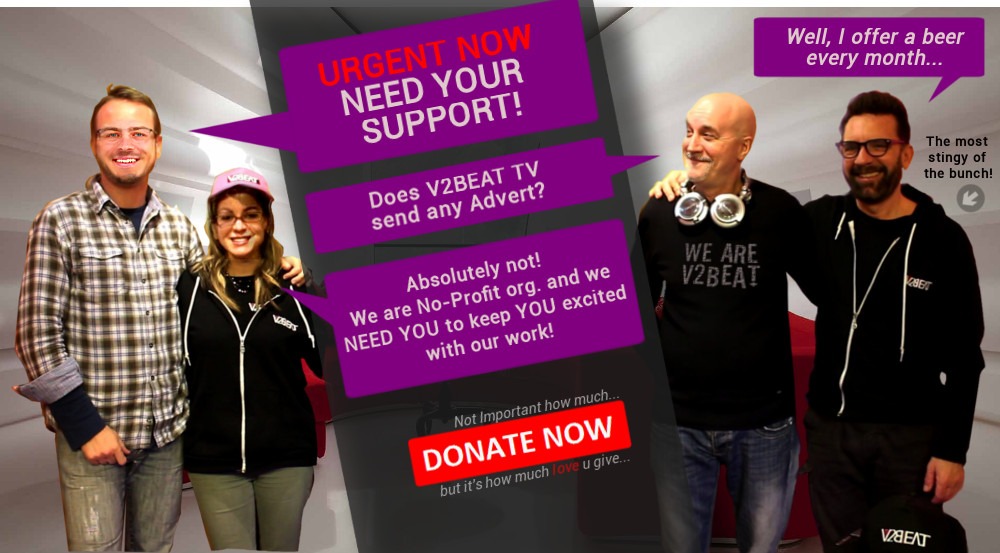 ---