---
EUROPEAN TOP40 HITS POP CHART ON AIR @2PM EVERY SATURDAY SHAKING & AMAZE
Written by V2Beat on 19/09/2020
The European TOP40, The Official Europa TOP40 Chart for EUROPEAN POP MUSIC (updated 19 September 2020)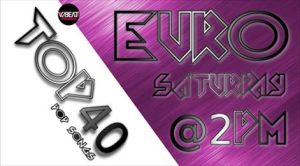 V2BEAT Online Music TV,  is proud to announce the EURO TOP40 Hits Chart aired every Saturday afternoon related to the most listened songs in Europe.
 Tune on V2BEAT radio & TV from 2.00 PM (UTC Offset: UTC + 1h) or Matariki FM (UTC Offset: UTC -10h) 
The European TOP40 music charts is considered taken from the Europe Official Top 100  and remains the V2BEAT  official charts for RnB, Rap, pop, country music, Hip Hop, Dance and Urban Top rhythm music artists. Weekly news songs and videos, from urban, dance-pop, r&b, hip hop, trip hop, rap, soul, music videos, are selected from the major Top Charts like billboard charts top 100 song, from vote collected from our audience, web downloaded songs, favorite compilation taken from many online Radios to compile the European Top40 Charts from V2BEAT Music Television .
During the European Hot 40 you can also directly vote the songs and artists by means the use of our website, just press VOTE THIS SONG button!
[popup_anything id="17870″]



THE EUROPEAN TOP 40 POP SONGS CHART BY THIS WEEK:
| Artist | Title | POSITIONS |
| --- | --- | --- |
| CKay | Love Nwantiti (ft Joeboy, Kuami Eugene) [T40-01] [0920-1] | 01 |
| The Kid Laroi, Justin Bieber | Stay (V2Beat Edit) [0721-2] [T40-02] [CDA Clean] | 02 |
| Ed Sheeran | Bad Habits [Comic Video][T40-03] [0721-2] | 03 |
| Glass Animals | Heat Waves [T40-04] [1020-3] | 04 |
| Ed Sheeran | Shivers [CDA] [T40-05] [0921-3] | 05 |
| Elton John, Dua Lipa | Cold Heart (Pnau Remix) [CDA] [T40-06] [0821-2] | 06 |
| Lil Nas X, Jack Harlow | INDUSTRY BABY [T40-07] [0821-1] | 07 |
| Shouse | Love Tonight (David Guetta Remix) [Short Edit][T40-08] [0621-4] | 08 |
| Joel Corry, Jax Jones, Charli XCX, Saweetie | Out Out [CDA] [T40-09] [0821-4] | 09 |
| Lil Nas X | That's What I Want [Dtime V] [CDA] [T40-10] [1021-3] | 10 |
| Doja Cat | Woman [Visualizer][T40-11] [0621-4] | 11 |
| Farruko | Pepas [Radio Edit] [CDA] [T40-12] [0821-3] | 12 |
| Coldplay, BTS | My Universe [CDA] [T40-13] [0921-1] | 13 |
| Anne Marie, Little Mix | Kiss My (Uh Oh) [0721-4] [T40-14] [CDA] | 14 |
| Lost Frequencies, Calum Scott | Where Are You Now [CDA] [T40-15] [0921-4] | 15 |
| Becky Hill & David Guetta | Remember [T40-16] [0721-1] | 16 |
| David Guetta, MistaJam, John Newman | If You Really Love Me (How Will I Know) [0721-3][T40-17] [CDA] | 17 |
| Dermot Kennedy | Better Days [T40-18] [0921-4] | 18 |
| The Weeknd ft Ariana Grande | Save Your Tears (Remix) [T40-19] [0521-1] | 19 |
| Mimi Webb | 24/5 [T40-20] [0921-4] | 20 |
| Wizkid, Justin Bieber, Tems | Essence [Lyric Video] [T40-21] [0821-3] | 21 |
| Kungs | Never Going Home [T40-22] [0721-1] | 22 |
| Jonasu | Black Magic [T40-23] [0121-1] | 23 |
| Dadju, Anitta | Mon soleil [T40-24] [0621-4] | 24 |
| Little Mix | Love (Sweet Love) [CDA][T40-25] [0921-4] | 25 |
| Ne Yo | What If [T40-26] [1121-4] | 26 |
| Justin Bieber | Ghost [CDA] [T40-27] [1121-2] | 27 |
| Diana Ross | If The World Just Danced [Visual] [T40-28] [0921-3] | 28 |
| Majestic, Nightcrawlers | Losing My Mind [CDA] [T40-29] [0921-4] | 29 |
| Shawn Mendes | Summer Of Love [CDA] [T40-30] [0821-4] | 30 |
| Galantis, David Guetta ft Little Mix | Heartbreak Anthem [T40-31] [CDA Radio Edit] [0521-1] | 31 |
| Enrique Iglesias | Chasing The Sun [Lyric Video] [T40-32] [0921-3] | 32 |
| Kylie Minogue, Years & Years | A Second To Midnight [T40-33] [1121-1] | 33 |
| Gabry Ponte, Henri PFR | The Feeling [Lyric Video] [T40-34] [1121-4] | 34 |
| Jason Derulo | Acapulco [Radio Edit] [CDA] [T40-35] [0921-3] | 35 |
| Mufasa & Hypeman x Dopamine | Weekend [T40-36] [0921-3] | 36 |
| Purple Disco Machine | Dopamine [CDA] [T40-37] [0921-2] | 37 |
| Bob Sinclar And Molly Hammar | We Could Be Dancing [T40-38] [0721-2] | 38 |
| Tiesto, Karol G | Don't Be Shy [T40-39] [0821-2] | 39 |
| R3hab, Jonas Blue, Ava Max | Sad Boy [Lyric Video] [T40-40] [0921-3] | 40 |
EUROPEAN TOP40
 Lost the Show? here you can re-listen the previous episode!
EUROTOP40_12_09_20
READ ALSO…
V2BEAT The European TV channel is now on app! 
From today it is even easier to listen or watch live V2BEAT channel! Listen to or watch our programs dedicated to the culture of POP music, with exclusive interviews with famous DJs, singers and artists of the Pop/Edm/House/Underground/Soulful/R&B/Trap/latin segments.
V2BEAT literally "Video to beat" was born recently from the heart of Europe and being young wants to be fresh and dynamic to offer the best experience and enjoyment of POP and related music culture.
Have you listened to a piece of music and want more information? you can easily get them with the V2BEAT app!
What else does the V2BEAT app offers?
– You can send free messages to the VJ during live and make contact!
– Continuous updates on the POP & DANCE music scene.
– Keep up to date with the latest music and show news from the great international artists.
– Rate and vote the song on the air.
– React and send us your emotions as you feel listening that particular song.
– Give your opinion to the artist during live interview.
#POP NEWS!
Every week during the show "POP NEWS" we offer a list of songs "New Entered in rotation" proposed to us by excellent record labels. Artists and singers with a high level of quality but not yet well known to the public, we propose their work to be widespread to our audience.
You can also collaborate with us! as a "special correspondent" during events and concerts, send us news, facts, curiosities, photos that you collected during the event, we will evaluate them and they will be published on our page! It will not only be useful to your closest friends, you will be famous all over the world of our audience!
Often during the episode we invite artists, singers and DJ producers for a live interview. The interviews then remain available on our youtube channel to be watched again.
POP NEWS presented by ESTER will be broadcast on Tuesday and Thursday at 5PM (GMT + 1h) and replicated at the same time the following day.
#RETRO HITS!
We offer news and curiosities of great current artists and celebrities of the past.
Every hour we pass an artist who has made clamor in the musical past with the segment "RETRO HITS". One of the most beautiful songs from the 70s till 2009.
The appointment with RETRO HITS is every first quarter of an hour, every hour.
#LOST MUSIC HITS!
But let's not forget even the artists during recent ages from 2010 till 2016 who left us with strong emotions and that in the common radio stations do not listen anymore, so we propose the "LOST MUSIC HITS" segment twice a hour at the first 20 minutes and 40 minutes every hour.
#'N THE MIX!
At 45 minutes every hour we offer the segment 'N THE CLUB – DJ MIX By …
15 minutes of videomix performed by important international DJs. You can collaborate too! send us the DJ GIG MIX, and if we consider it in line with our programming you will be aired on our Radio TV channel.
'N THE CLUB – DJ MIX By… it is broadcast every 3/4 of an hour, every hour.
#EUROPEAN TOP40!
We always need your opinion to decide which songs you prefer to listen to and then spread more to your friends and fellows, in a few words, to the world!
Then take part in the voting of the songs you prefer during the episodes of "European TOP40" broadcast every Saturday afternoon at 2PM (GMT + 1h).
#MAGAZINE!
You will find many informations about the artists of today and yesterday. You can collaborate by sending comments and reactions immediately to this exclusive show and the contents of the news. V2BEAT is a colaborative channel!
WE PLAY THE MUSIC U LOVE!
We are curious about your opinion and always looking for input to improve our segments. This makes the V2BEAT app super interactive. We read your comments and messages with pleasure.
And all in one convenient app!
---
Reader's opinions
---